Auction Software Platform designed for Auctioneers
Modern online auction software platform Webtron's 8.0AI is made specifically for auctioneers.
It's difficult to express the effectiveness of having your own branded white-label auction software platform on your website. But here we go!

Are you a sole proprietor looking for the best auction software to manage your own scheduled online and live webcast auctions directly from your own website? then we can assist!

Our experience with online auction systems spans more than 15 years. You may operate your auctions conveniently online thanks to our auction software platform, which is a tried-and-true solution. Daily online auctions are conducted by our clients. white-label sales that are branded and have their own websites.
You can choose between marketplace formats, live-streaming webcast auctions, and timed online auctions on a single platform. You have the freedom to customise your auctions to meet your demands thanks to our cutting-edge and user-friendly auction software platform system.

Additionally, a dedicated auction support team will be available to help with any training required, such as auction setup, management, support, and monitoring. As needed, further choices include email and social media marketing services, auction websites, and others.
We have the technology, expertise, experience, and support needed to make online bidding successful for your auction company.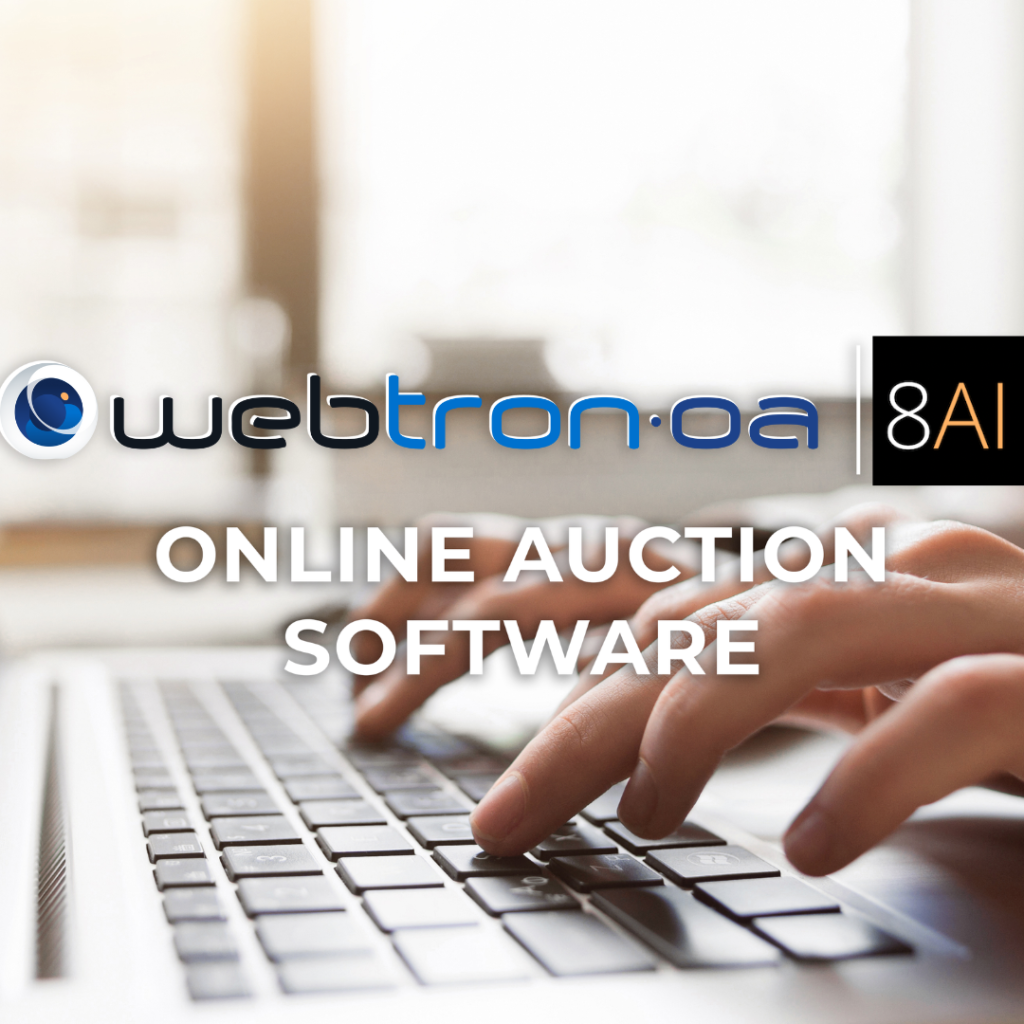 Pick and choose the auction software options to suit your auction business

Mobile-friendly, app-free bidding
Auctions run straight from your website on all modern computers inc mobile. No apps needed!

Detailed lot information
Add detailed product information with as many pictures, videos and supporting PDF documents as you'd like.

Real-time updates
Your bidders can keep track of all bids in real-time with on-screen notifications

Bid extension
Allows bidding to continue for an extended period of time to maximise bidding activity.

Lot staggering
Close your lots off in sequential batches to maximise bidding activity on larger auctions.

Webcast pre-bidding
Accept pre-bids before and during your live webcast auction

Real-time audio and video
Stream your auction video & audio live in real-time.

Multi-currency and language translation
Reach your desired target markets with options for multi-currency and language translation.

Social sharing options
Share auctions or individual lots to Facebook, Twitter, LinkedIn, Whatsapp, Weibo & more!
Online auction solutions for your business
🎥 Live Webcast Auctions
⏳ Timed Online Auctions
📈 Marketplace
👩‍💻 Remote Clerking option
✅ Everything you need & will run from your own website
🏷 White Label Auction Software – 'value protect your bidders & IP' ( Not a group site
)
So modern works on all devices without frustrating bidders to download apps
🧑‍💻 Includes Setup, Training & Local Ongoing Support
🧾 Auction invoicing & reporting
🖥 Websites & marketing
😊 Simple for bidders and powerful for auctioneers
So ready to get started?
FAQS
What is Auction Software Platform
Webtron auction software platform is a specialised tool designed to help businesses and organisations conduct and manage auctions, both online and offline. It includes features such as auction cataloguing, bidding, invoicing, and payment processing.

What are the benefits of using auction software platform?
Using an auction software platform can provide several benefits for businesses, such as increased auction revenue, expanded bidder reach, streamlined auction processes, and improved bidder engagement.

What features should I look for in auction software platform?
When choosing an auction software platform, consider features such as customisable auction catalogues and real-time bidding and reporting

How easy is it to use auction software platform?
Webtron auction software platform is designed to be user-friendly and intuitive, with features that are easy to navigate and understand. Webtrons software providers may offer training or customer support to help users get started.

How can auction software platform help me expand my bidder reach?
Webtron's online auction software platform can help you expand your bidder reach by providing a platform for bidding from anywhere in the world, promoting your auctions through email and social media marketing, and engaging bidders through live and silent auction options.

New Webtron 8.0 Ai auction software platform
There has never been a better time to upgrade your online auction software to Webtron's 8.0 Ai newest auction software.
A white-label auction solution that runs from your own website. Take your online auction business to the next level with Webtron's state-of-the-art auction software.
'Simple for Bidders and Powerful for Auctioneers'.
Please get in touch and arrange a demo for your business.
Get in touch by filling out your details below